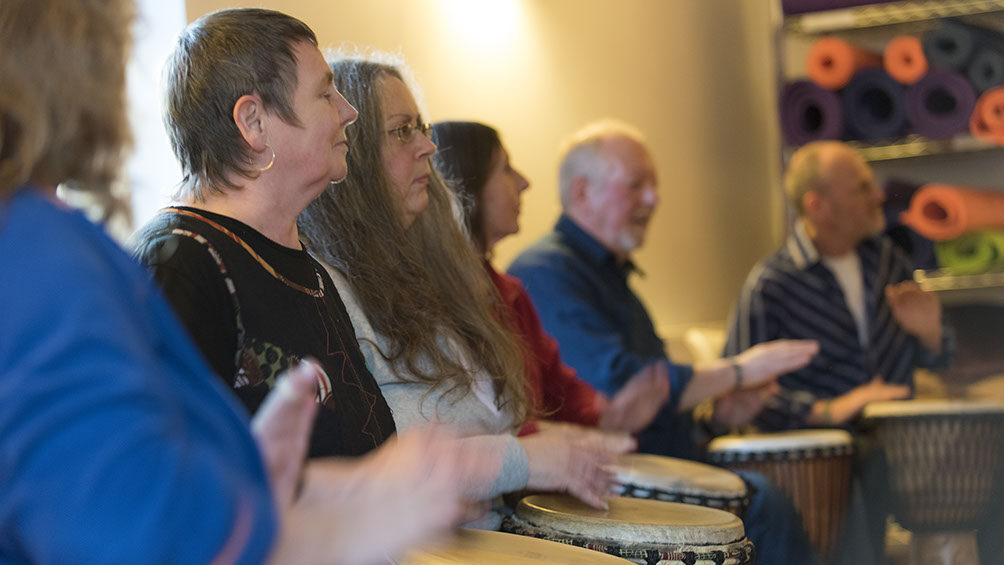 Drumming with Carol
Talking Rhythm – Drum Classes at TTF
In these classes at Forres, we will explore rhythm in a playful but deepening way. Using hand drums and percussion, movement and voice, the emphasis is on embodying the rhythm. Inspired by African and Afro Latin rhythms and instruments, Carol uses her years of training and experience as a percussionist, performer, teacher, and facilitator to bring together these elements to discover the power of playing drums and rhythms together.
Autumn 2022 – Classes Starting Wednesday 31th of August
There will be two evening classes on Wednesdays and a Thursday morning class.
Early Class: 6 – 7.15pm
For all over 14-year-olds. We will explore rhythm and learn how to play the instruments and work on some traditional group rhythms.
Later Class: 7.30 – 9.15pm
For those that have some experience. Here we will focus on orchestration and possibly work towards performance.
Thursday Morning 10.30 – 12noon
This Class open to all levels and abilities – feeling the rhythm with a morning vibe.
Numbers are limited and prebooking is essential. Cost is still only £60 for a 6-week block, this includes use of instruments and teaching materials
Contact Carol Scorer
Tel: 01309 358024: 07979787149
Email:
Website: www.intherhythm.co.uk
Facebook: https://www.facebook.com/carol.scorer
Twitter: Carol Scorer @ScorerCarol